yes, "watch". Sometimes I read it and I take the handy Daily Brief email too. But it both has the news and, for media watchers,
is
news. I predict their page hits per day will begin to climb. They have been tinkering with what I call the "slashdot afterburner" in which commenters rate other commenters. Works for Kos.
Arianna is pretty good snoop
. Kristol may never learn to shut up but at least he is going to learn to whisper.
And they get good pics: here is William Kristol, trying to look thoughtful while passing a brick right on Fox news.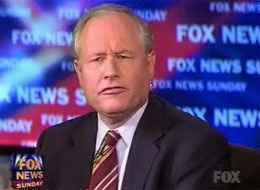 And here is dear leader, getting a little rush by inserting the brick.